TIPS

GIGGLES

AND EVERYTHING IN BETWEEN
CREATIVE TIPS FOR EVENT WAYFINDING (AKA HERDING CATS)
"Even the most geographically savvy event attendee seems to fall into the trap of walking around in a daze at an event."
It's Like Herding Cats
I love that expression – herding cats – because it so accurately describes the painful process of moving large groups of people from one spot to the next at an event.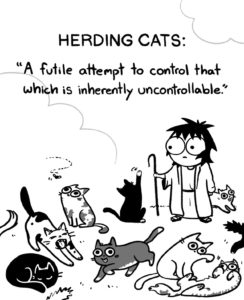 Even the most geographically savvy event attendee seems to fall into the trap of walking around in a daze at an event. Maybe it's the excitement of the event, the distraction of checking the event schedule or the anticipation of catching up with old friends.
Regardless, even people with a fantastic sense of direction seem to get lost at an event.
It can seem so basic, but having phenomenal event wayfinding is a key part of event success. People need to be in a specific place at a specific time so event professionals need to make it super easy for them to find their way.
Start by taking the time to plan out the routes and anticipate where event attendees may get confused or where bottlenecks may occur.
Wayfinding is so much more than plain old easel signs or arrows. BORING!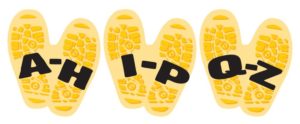 Yes, these may still have their place, but I suggest getting WAY more creative to up the impact.
Creative Tips for Event Wayfinding
Built-in wayfinding: Lots of venues nowadays have built-in electronic screens. This option is great because the venue takes care of the set-up. However, I find this type of signage somewhat problematic because event attendees tend to ignore them assuming they are part of the venue directional signage and not specific to the event.
Wayfinding live: Who doesn't love to see a friendly face? Wayfinding ambassadors are a great way to physically help point people in the right direction. Make sure you pick people who have an outgoing demeanour.
Techy wayfinding: You can use adaptable digital screens around the venue or incorporate updates into your event app. How about push notifications that go right to your attendees' phones and can be pre-programmed (or even adjusted on the fly). I'm a big fan of the SMSNet event text messaging service. Another great way to use your event app is to incorporate GPS mapping options.
Artistic wayfinding: Here is where you can get really creative! Artistic wayfinding grabs people's attention, but can also take more time to create. Think chalk boards, temporary graffiti walls, and chalk walks. Maybe your event attendees can be part of the creation process throughout the event? Or maybe it's high-impact right when they arrive?
Light it up wayfinding: Lighting, projection and Gobos are a great way to subtly direct your attendees and can provide promotional options for event sponsors too.
These are just a handful of creative wayfinding options! I talk a lot more about wayfinding in Volume I of my ebook, the iSPARK Event Planning Guide.  
So, the next time you plan an event or attend one as a guest, pay attention to the signage and do your part to help herd the cats!